Posts for: February, 2016
By Hudson Family Dental PC
February 25, 2016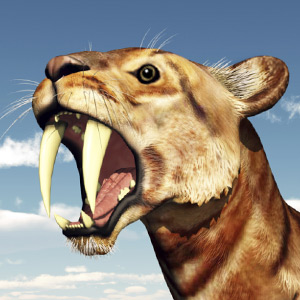 What do young saber tooth tigers, which have been extinct about 10,000 years, have in common with human kids today? At first glance, not a lot. Smilodon fatalis, the big cat of North America, reached adulthood at around age three and weighed up to 600 pounds. But these ice-age mammals are probably best known for their dagger-like canine teeth, which (as shown by many well-preserved skeletons) grew up to 7 inches long. And that's where the comparison between kids and kitties gets interesting.
The toothy felines had primary (baby) teeth and adult teeth, which developed in a similar way to human dentition. The primary teeth came in first, persisted during the young cat's development, and shared space in the mouth as the adult teeth were erupting (growing in) — with one big difference. According to a recent study reported in the academic journal PLOS ONE, those colossal canines grew at an astonishing rate: up to 6 millimeters per month! By comparison, human primary teeth emerge from the gums at around 0.7mm per month, while permanent teeth may grow up to 2mm per month.
It's understandable why those tiger teeth developed so rapidly: Life in the Ice Age was hard, and predators needed every advantage just to stay alive. But while human baby teeth take longer to develop (and to go away), they, too, are vitally important. For one thing, the primary teeth let kids bite, chew, speak (and smile) properly, until they are replaced by adult teeth — a process that isn't usually finished until a child reaches the age of 12-13. So those "baby" teeth allow kids to have good nutrition — and positive social interactions — for a significant part of childhood!
There's another important thing primary teeth do before they're gone: They help ensure that the succeeding teeth come in properly, by holding a space in the jaw that will later be filled by a permanent tooth. If baby teeth are lost prematurely, those spaces can close up, resulting in permanent teeth that emerge too close together, or in the wrong places. This condition, called malocclusion (bad bite), can usually be corrected by orthodontics. But it's better to avoid the inconvenience (and cost) of braces, if possible.
That's why it's so important to take care of your child's baby teeth. Even though they won't be around forever, they have a vital role to play right now. So be sure proper attention is paid to your child's oral hygiene: That means avoiding sugar, and remembering to brush and floss every day. And be sure to come in regularly for routine exams, cleanings, and needed care. It's the best way to keep those little teeth from "going extinct" too soon!
If you have questions or concerns about your child's baby teeth, please call our office to schedule a consultation. You can read more in the Dear Doctor magazine articles "Importance of Baby Teeth" and "Early Loss of Baby Teeth."
By Hudson Family Dental PC
February 10, 2016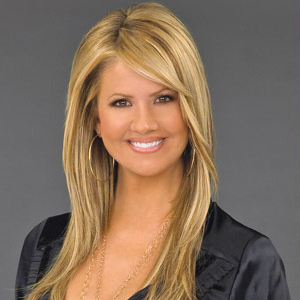 When Entertainment Tonight host Nancy O'Dell set out to teach her young daughter Ashby how to brush her teeth, she knew the surest path to success would be to make it fun for the toddler.
"The best thing with kids is you have to make everything a game," Nancy recently said in an interview with Dear Doctor TV. She bought Ashby a timer in the shape of a tooth that ticks for two minutes — the recommended amount of time that should be spent on brushing — and the little girl loved it. "She thought that was super fun, that she would turn the timer on and she would brush her teeth for that long," Nancy said.
Ashby was also treated to a shopping trip for oral-hygiene supplies with Mom. "She got to go with me and choose the toothpaste that she wanted," Nancy recalled. "They had some SpongeBob toothpaste that she really liked, so we made it into a fun activity."
Seems like this savvy mom is on to something! Just because good oral hygiene is a must for your child's health and dental development, that doesn't mean it has to feel like a chore. Equally important to making oral-hygiene instruction fun is that it start as early as possible. It's best to begin cleaning your child's teeth as soon as they start to appear in infancy. Use a small, soft-bristled, child-sized brush or a clean, damp washcloth and just a thin smear of fluoride toothpaste, about the size of a grain of rice.
Once your child is old enough to hold the toothbrush and understand what the goal is, you can let him or her have a turn at brushing; but make sure you also take your turn, so that every tooth gets brushed — front, back and all chewing surfaces. After your child turns 3 and is capable of spitting out the toothpaste, you can increase the toothpaste amount to the size of a pea. Kids can usually take over the task of brushing by themselves around age 6, but may still need help with flossing.
Another great way to teach your children the best oral-hygiene practices is to model them yourself. If you brush and floss every day, and have regular cleanings and exams at the dental office, your child will come to understand what a normal, healthy and important routine this is. Ashby will certainly get this message from her mom.
"I'm very adamant about seeing the dentist regularly," Nancy O'Dell said in her Dear Doctor interview. "I make sure that I go when I'm supposed to go."
It's no wonder that Nancy has such a beautiful, healthy-looking smile. And from the looks of things, her daughter is on track to have one, too. We would like to see every child get off to an equally good start!
If you have questions about your child's oral health, please contact us or schedule an appointment for a consultation. You can learn more by reading the Dear Doctor magazine articles "Taking the Stress Out of Dentistry for Kids" and "Top 10 Oral Health Tips for Children."