Posts for: November, 2014
By Hudson Family Dental PC
November 19, 2014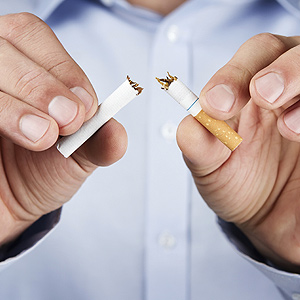 It's been widely established for decades that cigarette smoking contributes to cancer and heart disease. But did you know smoking will also increase your risk of tooth decay and periodontal (gum) disease, as well as nuisance problems like tooth staining, bad breath and diminished taste perception?
Its effects on your teeth and mouth are all the more reason to quit smoking. But deciding and following through are two different things: many smokers find it painfully difficult to quit due to their addiction to nicotine, tobacco's active ingredient.
But while difficult, it can be done. Here are 4 tips to help you follow through on your decision to quit smoking.
Change Your Response to Stress. Cigarette smoking is closely tied to the pleasure and reward areas of your brain. With its "hit" of nicotine, you sub-consciously identify smoking as a way to relieve the unpleasant feelings of stress. Instead, substitute other stress relievers when it occurs: going for a walk, talking to a friend or taking a few deep breaths. In time, this substitution will wear down the trigger response to stress you've developed with smoking.
Gradually Reduce Nicotine. You don't have to quit abruptly or "cold turkey": over the course of a few weeks, try switching to brands with decreasing levels of nicotine. Each week change to a brand with 0.2-0.4 milligrams less nicotine yield than the brand you were smoking the previous week. When you reach the lowest nicotine yield you can find, begin reducing the number of cigarettes you smoke each day. You can find a list of nicotine yields by brand at www.erowid.org/plants/tobacco/tobacco_nic.shtml.
Quitting Loves Company. While you're responsible for quitting, you may also benefit from the support of others. Usually eight to ten weeks of peer group sessions, a cessation support group provides instruction and ample structure with others engaged in the same struggle. You can usually locate one of these support groups by asking your healthcare provider.
Talk to Your Doctor or Dentist. Next to you or your family, no one wants you to quit more than we do! We can provide you information, treatment and encouragement as you take this big step toward improving your life and health.
If you would like more information on how to quit smoking, please contact us or schedule an appointment for a consultation. You can also learn more about this topic and more tips for quitting by reading the Dear Doctor magazine article "10 Tips to Help You Stop Smoking."
By Hudson Family Dental PC
November 03, 2014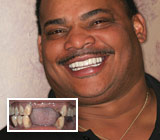 This is the story of a well-known man, fearless in most respects, who was afraid of the dentist. Even though his fears had resulted in neglect and serious damage to his teeth, modern dentistry and a talented dental team were able to restore his smile to health. If you share this fear, his story may inspire you to take action.
We're talking about William Perry, former defensive lineman and fullback for the Chicago Bears. Here is a man who could fearlessly face a football squad — but not a visit to the dentist. Nicknamed "The Refrigerator" for his 380-pound massive frame, Perry played for ten years in the NFL before retiring in 1994. Since retiring he founded and operated a construction company in South Carolina in addition to making celebrity appearances.
With his celebrity in mind, a team composed of a talented restorative dentist, implant surgeon, and lab technician agreed to give "The Fridge" a makeover. After discussing modern technology and virtually pain-free dentistry with him, they managed to overcome Perry's fears. "I had been in constant pain for many years and I neglected myself, not having had any dental care for over 20 years, not even emergency care. Unfortunately, as I grew older my teeth started to get loose," Perry told an interviewer. He had lost many teeth and became known for his gap-toothed smile.
Perry had severe gum disease and many of his remaining teeth were loose. In the past his only option would have been a full set of dentures. But his new dental team was able to place dental implants (permanent tooth replacements) supporting fixed bridges. In most cases dental bridges are attached to healthy teeth, but in Perry's case the implants served as anchors for the bridges. They also stabilized his jawbone, which would otherwise "resorb" or melt away after his teeth were lost. This is important because it helps preserve the contours of his face.
After careful planning "The Fridge" had eight dental implants placed in his upper jaw and seven in his lower. The final bridgework was completed four months later. It turned out that even though the gap between his teeth had become his trademark, "the Fridge" never really liked it. He was thrilled with his new smile.
Even if you have some fears, don't hesitate to follow Perry's example and make an appointment with us for a consultation about dental implants, smile makeovers, or bridgework. For more information about William "The Refrigerator" Perry, see the Dear Doctor magazine article "How Immediate Implants Saved 'Refrigerator' Perry's Smile."