Posts for: January, 2014
By Hudson Family Dental PC
January 23, 2014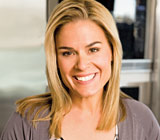 When asked about her dazzling white smile, Cat Cora, the first female iron chef on the hit television series Iron Chef America, freely admits to maintaining the brightness of her smile with professional whitening sessions.
"With what I do, whitening your teeth is like getting your hair done, your nails done and everything else you have to do to be on television," Cat recently told Dear Doctor magazine. However, she does have her limits. "I want my teeth to be white and healthy looking — but not stark white or looking like they could glow in the dark," she said with a laugh.
Cat's perceptions and experiences with tooth whitening may accurately describe Hollywood, but through the power of media, celebrities and their respective fan bases, having attractive white teeth has become a goal for most people. This is because white teeth are subconsciously associated with youth and virility.
Here in the dental office, we can use professional-strength "power bleaching" to whiten teeth several shades in a single visit. To prevent irritation to the area surrounding the teeth being treated, we isolate the gums and skin of the mouth with a protective gel or a rubber barrier known as a dental dam. After the whitening solution is placed on the teeth, the process may be supplemented by heat or a light source to activate or enhance peroxide release.
For bleaching teeth at home, our office can make custom-fitted bleaching trays that you fill with a gel form of carbamide peroxide. Sometimes this whitening gel can cause a temporary tooth sensitivity to hot and cold, but this normally lasts for no more than four days after you stop bleaching your teeth.
To learn more about tooth whitening, you can continue reading the Dear Doctor magazine article "Teeth Whitening." Or you can contact us today to schedule an appointment so that we can conduct a thorough examination and discuss what treatment options will be best for you. And to read the entire interview with Cat Cora, please see the article "Cat Cora."
By Hudson Family Dental PC
January 08, 2014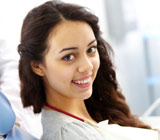 Permanent tooth loss at any age greatly affects long-term oral health. But because their jaw and facial structures are still developing, it's particularly consequential for adolescents. Add to that any planned orthodontic treatment, and a little extra care is warranted when a teenager loses a tooth.
The biggest concern is potential bone loss caused by the missing tooth. Because the mouth structures are still developing, bone loss can be especially problematic for any future restorations of missing teeth. One of the best ways to slow or stop bone loss is to surgically insert bone-grafting material at the time of an extraction. Bone grafts act as scaffolds that the body builds natural bone upon; eventually the natural bone completely replaces the graft material.
When it comes to the matter of orthodontics, the treatment plan will be to either close the space so that future tooth replacement isn't necessary or maintain the space for future tooth replacement. If the choice is the latter, the orthodontist will maintain enough space during installation of the braces for future replacement. In the meantime, the orthodontist can install temporary, color-matched tooth replacements within the braces to cover the gap. After the braces have been removed, artificial crowns may also be incorporated into the retainers for a more natural appearance until receiving a permanent replacement.
The best choice for that permanent replacement is a dental implant, a "stand-alone" system that encourages bone maintenance and doesn't interfere or impact adjacent teeth. The only real question for adolescents is when to install the implants.
The mouth's structural development doesn't conclude until early adulthood: in males around ages 20, and in females typically a year or so earlier. Your dentist will evaluate your adolescent's growth and development to determine if he or she is ahead or behind the growth curve. Natural teeth grow and develop along with the corresponding bone growth, but implants are artificial devices that don't "grow" with the natural bone. It's important, therefore, to postpone an implant installation until the jaw structure has fully developed — if done too early, the implant crown's length won't appear to be proportionally right (especially in relation to natural teeth) as the jaw continues to grow.
If you would like more information on dental implants for teenagers, please contact us or schedule an appointment for a consultation. You can also learn more about this topic by reading the Dear Doctor magazine article "Dental Implants for Teenagers."