Posts for: November, 2013
By Hudson Family Dental PC
November 25, 2013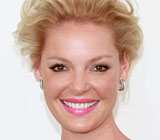 Many adults these days are opting for clear aligners to correct orthodontic problems that have long bothered them. Katherine Heigl is a perfect example. She had one tooth that was out of alignment, and wanted to have it fixed before her wedding day.
"I got them [clear aligners] because of this wonky tooth," Heigl told In Style magazine not long ago. "It's awesome because every two weeks you switch to a new retainer. Pretty much the perfect way to describe Invisalign is Netflix for your teeth."
That's actually a pretty good way to describe this highly user-friendly form of orthodontic treatment. Clear aligners are transparent, plastic oral appliances that are changed every two weeks so that your teeth can be moved a little bit at a time, according to a carefully staged sequence. Though they cover your teeth completely, clear aligners are barely noticeable.
In fact, when Heigl excused herself before taking out her aligners to eat, her In Style interviewer said, "Who knew you wore them? I guess that's the point of Invisalign."
Being able to remove the aligners for eating and, more importantly, teeth-cleaning, is another major advantage of this method of straightening teeth. Successful orthodontic treatment for adults depends on good periodontal health ("peri" – around; "odont" – tooth), and the best way to keep your gums and the underlying bone that supports your teeth healthy is to keep up an effective daily oral hygiene routine.
Clear aligners have been improved in recent years to correct more complicated malocclusions ("mal" – bad; "occlusion" – bite) than previously; they can even work well for teenagers. But there are still some cases that call for traditional braces. We would be happy to explore all the different options for orthodontic treatment with you, whether you have crowded teeth, an overbite or underbite, or just one "wonky tooth."
If you would like more information about clear aligners, please contact us or schedule an appointment for a consultation. You can also learn more about clear aligners in general by reading the Dear Doctor magazine article "Clear Aligners For Teenagers." Dear Doctor also has more on "Wedding Day Smiles."
By Hudson Family Dental PC
November 15, 2013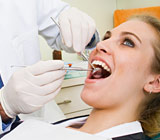 That "squeaky clean" feeling on your teeth might be the most noticeable result of a professional cleaning performed by a dental hygienist. Rest assured, though, there's more to it — regular professional cleanings yield long-term benefits to your oral health.
A basic procedure known as coronal cleaning removes plaque (bacteria and leftover food deposits) on the crowns, the visible portion of the teeth. If you are showing signs or are at risk for gum disease (a bacterial infection of the gum tissue) your hygienist may also initiate cleaning below the gum line with a procedure called scaling. This common technique removes plaque and tartar (hard deposits) above and below the gum line using either a traditional set of hand instruments (known as curettes) or an ultrasonic scaler, a device that uses vibrations from ultrasonic frequencies and water to remove plaque and tartar.
Root planing takes the cleaning even deeper, using curettes to remove plaque and tartar adhering to tooth roots. This is typically necessary for patients with advanced gum disease, and may need to be repeated over a number of visits as inflammation subsides.
Polishing is another common hygienic procedure performed both above and below the gum line. It's the procedure you most associate with that feeling of smoothness after a cleaning. The hygienist will typically apply to the teeth polishing paste held in a small rubber cup attached to a motorized device. As the motor rapidly rotates the rubber cup, the paste works into the teeth to remove surface stains and bacterial plaque. While it's considered a cosmetic procedure, it's more accurately defined as a prophylaxis, a dental term derived from the Greek meaning to guard or prevent beforehand.
Professional cleaning performed by a dental hygienist is only one half of an overall hygiene plan; the other half is your own daily habit of brushing and flossing. Both your daily hygiene and regular dental checkups and cleanings will go a long way toward preserving your teeth as they were meant to be — for a lifetime.
If you would like more information on teeth polishing, please contact us or schedule an appointment for a consultation. You can also learn more about this topic by reading the Dear Doctor magazine article "Teeth Polishing."